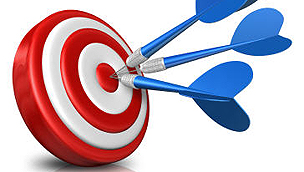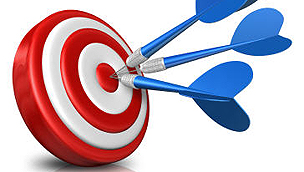 Smart marketing based on in depth research can generate leads, build brand awareness, and grow your business. But marketing that's based on luck or raw instincts will only waste money, opportunities, or both.
You can't afford to squander limited marketing resources on campaigns that are hit or miss. Instead, you need to plan, and track marketing efforts so you can learn what works and then jettison what doesn't. That way, you concentrate efforts on tactics that generate real results.
Here are five steps to getting the maximum return on your marketing dollars.
1. Identify Targets
First, evaluate your market to define the target customers you will benefit from reaching. Remember that target markets are not your core market. Targets shift depending on strategy and goals while the core customer typically remains stable.
For example, let's say you sell kerosene camping stoves. Your core market is people who like to go camping. But your target might be the Boy Scout troop leaders in the Northwest.
Further, instead of one-size-fits-all marketing to every user of your product, consider targeting heavy, light and occasional users. That way, you can customize messages more likely to hit nerves and drive response.
2. Research Customers
There's little mileage in launching marketing efforts until you know the characteristics of your target customers. Find out what they think about your product, why they buy it, and how and when they use it. You especially want to know how customers want to hear from you — via direct mail, e-mail, phone, or online Web sites — as well as how often. Don't overlook research into how you can meet their needs better.
You can gain such insights in several ways. When talking to customers, ask them questions. You can also create simple surveys, questionnaires, and customer satisfaction queries with return mail postcards or online forms. Offer a gift or benefit for their participation, like a coupon for discounted services or a gift that participants can claim. You can also do phone research. You may be surprised by the results.
Collect the responses and keep track of interested customers using preformatted reports that are available in the Microsoft Outlook Business Contact Manager, which is included in Microsoft Office Small Business Management Edition. As surveys are returned and orders come in, you can correlate the responses by exporting these reports to Microsoft Office Excel for further analysis.
To create a mailing list for the survey (and future marketing), export the contact information from Business Contact Manager. Or simply use the Mail Merge Wizard in either Microsoft Office Publisher or Microsoft Office Word to seamlessly incorporate contacts from Business Contact Manager or Excel directly into your publication or document.
3. Quantify Success
Make sure you define the results you want and set expectations that are appropriate for the marketing you choose. To help set goals, you can get advice from industry groups, small business divisions at local colleges, or fee-based marketing agencies.
You might set the mark at certain sales revenue or a specified number of generated leads per month. Your goal could be a total number of acquired customers within a year or one new investor by the end of your fiscal. Success could mean a shift in consumer perceptions or deeper customer satisfaction. Whichever, you need to articulate the desired set of outcomes beforehand or you won't know whether or not the marketing worked.
4. Calculate Your ROI
Take the time to compare the cost of proposed marketing against the profit you expect from it — not sales, mind you, but actual profit.
Monitor the range of customer response throughout the sales process so you clearly understand what brought customers through your door or to your Web site. Once you acquired the lead, how much did it cost in time and money to nail the sale? Can you make that process more cost effective? Did customers return to buy additional products or services, or did they move on? What would help to make them more loyal?
By setting up a table or grid that captures information about the campaign — whether in Microsoft Word, Excel or Publisher — you can create a tool that lets you evaluate results. You want to know:
-The per piece cost of your marketing material and distribution.
-A score for the buying action respondents take, such as high, medium or low.
-Some tracking code to categorize customer response via phone, direct mail, e-mail, Web-based, or in person.
Now you can figure out how much it costs to get a customer's attention. You can also put a price tag on what it takes to drive a response and close the deal.
5. Track Results and Adjust Efforts
By capturing data, updating results, and tracking your progress, you create increasingly integrated sales reports, financial analysis, and customer databases. That will tell you what's working — and what isn't. With that knowledge, you can customize the key marketing templates you use in Publisher 2003.
Don't test once and stop. Keep refining your tactics and messages. Build up to larger, more expensive and more proven marketing with low-cost, low-effort experiments. Some examples:
-Create special coupons. Use different codes for various messages or offers. That way, you'll know what attracts business or response.
-Buy a group of toll free 800 numbers and use different numbers for varying promotions. Costs for 800 numbers are minimal these days.
-Get in touch with repeat customers. Find out what makes them come back.
-Send a postcard mailing to customers who haven't bought anything for a while. Offer an incentive to buy and ask about the reason they haven't been around.
-Print your e-mail and Web site address on every direct mail offer you send out and see if that pulls.
Besides the fine-tuning of research and analysis there's a very simple rule about whether or not your marketing is effective. If you're spending more on marketing than the business it generates, stop doing it and create a new campaign.
About the Author: Joanna L. Krotz writes about small-business marketing and management issues. She is the co-author of the "Microsoft Small Business Kit" and runs Muse2Muse Productions, a New York City-based custom publisher.