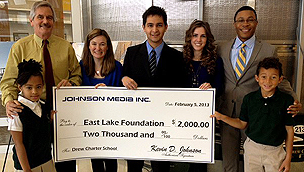 Posted by Jennifer Silverman in
Press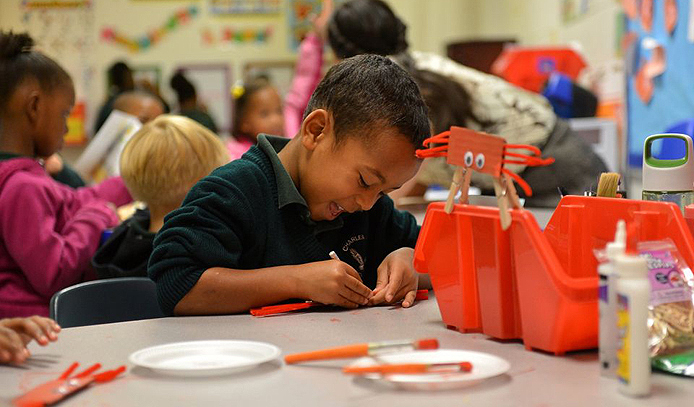 ATLANTA (February 5, 2013) – Johnson Media Inc. today presented Charles R. Drew Charter School with a $2,000 donation to support the school's before and after school programs. The check was presented by Johnson Media Inc.'s President and CEO, Kevin D. Johnson, to Drew's Principal, Don Doran, and East Lake Foundation's Chief Operating Officer, Danny Shoy.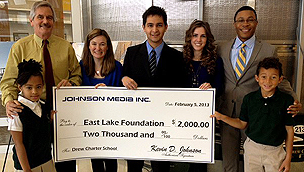 Drew Charter School, in Atlanta's East Lake neighborhood, provides students with a safe place to come before school to enjoy breakfast and get ready for the day. Drew's comprehensive after school program provides students with a wide range of enrichment activities, tutoring and homework assistance.
"Johnson Media Inc. is especially proud and excited to support Drew Charter School. Having lived in the East Atlanta area for almost a decade, I see every day the positive impact that the East Lake Foundation and Drew Charter School have on the community," said Johnson. "This is the beginning of our continued support of quality education and programming for students in this area."
Founded in 2000 as the first public charter school in Atlanta, Drew currently serves over 1,000 students from Pre-K through grade eight. In 2012, 99% of Drew students (grades 3-8) met or exceeded state standards in reading and language arts; 98% in math. Drew's After School Program, a program of the East Lake Foundation, serves more than 320 children and is one of the most comprehensive in the state.
About Johnson Media Inc.:
Johnson Media Inc. is an award-winning marketing and communications firm that specializes in strategy development for Fortune 100 companies. Likewise, it excels at strategy implementation which includes, but is not limited to services such as creative development, social media marketing, custom publishing, graphic and web design, video production and editing, and media placement. Based in Atlanta, Georgia, Johnson Media Inc. was founded in 2000. Clients include Cadillac, Target, McDonald's, Accenture, Bermuda Department of Tourism, The Coca-Cola Company, and JP Morgan Chase.
About Charles R. Drew Charter School:
Since opening in August 2000 as the city of Atlanta's first public charter school, Drew Charter School (www.DrewCharterSchool.org) has proven its innovative approach to education works. Drew's commitment to academic achievement, character development and enrichment opportunities helps all students reach their highest potential. Drew serves about 1,000 students, Pre-K through eighth grade. A Drew education is one that supports strong intellectual, physical, social and emotional growth. Standardized test results show that the longer students stay at Drew, the better they perform. Drew Charter School is the centerpiece of a mixed-income community that includes a public golf course offering golf instruction and mentoring for youth, a YMCA, a child development center and extensive programs that help children and their families succeed.
Contact Information:
Jennifer Silverman
jennifer@johnsonmedia.com