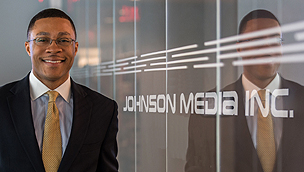 Posted by Kevin D. Johnson in
Press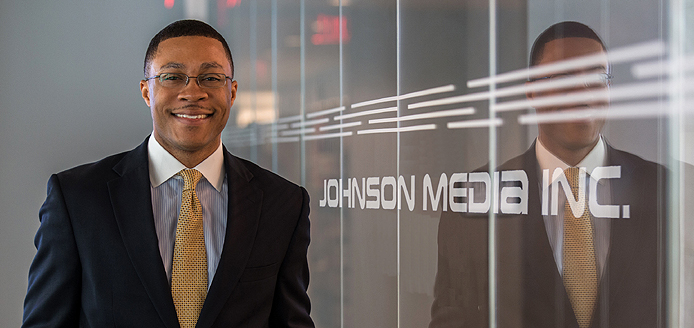 ATLANTA (November 14, 2014) — Johnson Media Inc., an award-winning marketing and communications firm headquartered in Atlanta, today announced that company founder and CEO Kevin D. Johnson has been named to Atlanta's "40 Under 40" class of 2014 by the Atlanta Business Chronicle.
Each year, the Atlanta Business Chronicle's 40 Under 40 Awards spotlight forty people under the age of forty who are considered to be the next generation of Atlanta's business and community leaders. Last night's exclusive event at the Fox Theatre honored this year's award winners for their significant career achievements in 2014 and their substantial contributions to the Atlanta community.
Since launching Johnson Media Inc. in 2000, Kevin has grown the company by increasing revenue substantially.   Last year, he led his company in winning a bid for a $40 million contract, the largest in company history.  Also, Kevin has led his company to win industry awards for outstanding client work.  Earlier this year, Johnson Media Inc. received the prestigious international Davey Award for creative excellence.
CEO of Johnson Media Inc., Kevin D. Johnson, said, "This recognition is a great honor.  I am truly thankful and excited to be among other outstanding business leaders."
Kevin is heavily involved in professional communities that focus on entrepreneurship, technology, and marketing.  As best-selling author of The Entrepreneur Mind released in 2013, he often speaks in Atlanta and around the world on the importance of entrepreneurship and innovation. Also, he recently was a director for the Technology Association of Georgia (TAG), one of the nation's largest nonprofit trade organizations for technology. Moreover, he serves in a leadership role for the Atlanta Marketing Association.
In addition to his professional responsibilities, Kevin enjoys supporting nonprofits as a volunteer and donor.  He works with Junior Achievement, East Lake Foundation, Big Brothers and Big Sisters of America, Economic Empowerment Initiative, Latin American Association, Lutheran Services of Georgia, and Boys & Girls Club of America.
About Johnson Media Inc.:
Johnson Media Inc. is an award-winning  marketing and communications firm that specializes in strategy development for Fortune 100 companies. It also excels at strategy implementation which includes, but is not limited to services such as creative development, social media marketing, custom publishing, graphic and web design, video production and editing, and media placement. Based in Atlanta, Georgia, Johnson Media Inc. was founded in 2000. Clients include Cadillac, Target, McDonald's, Accenture, Bermuda Department of Tourism, The Coca-Cola Company, and JP Morgan Chase.
About the Atlanta Business Chronicle:
The Atlanta Business Chronicle, with over 165,000 weekly readers, is the leading source for local business news in print and online in Atlanta. Each week, Atlanta's business decision makers read the Chronicle for the latest breaking news, trends in the market, employment opportunities and sales leads.
Contact Information:
Jennifer Silverman
jennifer@johnsonmedia.com