Creative… Diligent… Committed… Team players… Fun…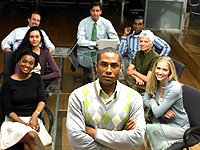 These are just a few words that describe the people that make up Johnson Media Inc., a company that is committed to serving its clients with the best quality possible. Our staff and team of accomplished partners have years of experience making brilliant ideas a reality, building companies, and leading in the marketing and communications industry.
While a sophomore in college, Kevin D. Johnson founded a software development and internet consulting company. Soon after, he partnered with Farai Mtetwa, a good friend and computer whiz. Together they created OmniPublisher, one of the first online content management systems.  (Launched in 2001, it predated WordPress by two years). Since then, the company has focused on marketing and communications, using its technology and programming expertise to give clients a competitive advantage. Likewise, the company has expanded its team to include industry trailblazers whose amazing confluence of ideas allows them to make Johnson Media Inc. one of the best and brightest firms.
Kevin D. Johnson
President & Chief Executive Officer
kevin@johnsonmedia.com
Kevin D. Johnson, founder and president of Johnson Media Inc., has several years of experience leading his company that serves many FORTUNE 100 businesses. As an innovative leader, he has appeared on CNN, ABC's Good Morning America, CBS, and in The New York Times and The Wall Street Journal.  Before founding his company, he developed computer software for leading companies such as IBM, CNN, and Accenture. Hailing from Boston, Kevin attended Morehouse College in Atlanta where he studied computer science as a NASA scholar and Spanish, graduating with honors. Kevin later obtained an MBA from MIT's Sloan School of Management where he was a Leadership Fellow. This graduate degree also included advanced studies at Harvard Business School. Kevin is currently a senior lecturer at MIT Sloan and serves as a professional advisor for the Martin Trust Center for MIT Entrepreneurship. In his spare time, he enjoys working with nonprofits, listening to salsa and jazz, playing piano in his Latin band, reading, golfing, traveling, and running marathons. Kevin published the bestselling book, The Entrepreneur Mind, which was featured on the "Best Entrepreneurship Books of All Time" list by BookAuthority.
Alicia Ingram
Vice President of Marketing
alicia@johnsonmedia.com
Alicia N. Ingram joined Johnson Media Inc. in 2006 and plays a key role in developing and executing effective marketing campaigns. Prior to joining the firm, she worked with the Federal Home Loan Bank of San Francisco, The Joint Center for Political and Economic Studies, Business and Professional Women/USA, New America Media, and Morehouse School of Medicine. Alicia has also worked with Matlock Advertising & Public Relations, one of the nation's top integrated communications agencies. There she worked on accounts such as Dell Computer, BellSouth, and The Walt Disney Company. A graduate of Michigan State University, Alicia holds bachelor's degrees in journalism and social policy. As one who loves to travel, she has studied abroad in London, South Africa, and Zimbabwe.
J. Kevin Powell
Vice President of Operations
jkpowell@johnsonmedia.com
J. Kevin Powell offers a unique collection of management organizational skills combined with the aptitude needed to operate a creative marketing campaign. He is a certified project manager (PMP). Before joining the firm, he worked for Verizon as one of two project managers company-wide assigned to national projects.  While there, he was recognized for his management of a national McDonald's transition project, one of the highest revenue-generating projects at the time. Furthermore, Kevin has developed a nationally distributed magazine, created custom publishing as well as implemented several marketing campaigns. A graduate of Howard University in Washington, D.C., Kevin earned a degree in journalism with an emphasis in public relations. When not working hard, you can find Kevin playing golf and spending time with his family.
Kathlene Goduco
Vice President of Creative Services
kathlene@johnsonmedia.com
Kat Goduco is the mastermind behind some of the most creative and visually stunning marketing campaigns today. Trained as a photographer, her images have been featured in People Magazine, USA Today, Washington Post, OK Magazine and many more. With a skill for pulling together and managing talented artistic teams, Kat celebrates expression through a variety of mediums. Such expression is present through her body of work and creative concepts. Before joining Johnson Media Inc., Kat worked in the marketing department for the Atlanta Hawks, an NBA franchise. She has over 15 years of industry experience.
Chelsey Rodgers
Vice President of Account Services and Legal Affairs
chelsey@johnsonmedia.com
Chelsey Rodgers, Esq. started with Johnson Media Inc. in 2004 and has since then combined her experiences in journalism, marketing, public relations, and the legal profession to serve as the firms's Director of Business and Legal Affairs. She has worked for McKee Nelson LLP as an associate and for L'Oreal USA as an assistant marketing manager. Chelsey, a native of Georgia, received her Juris Doctor from Howard University School of Law. She also graduated from Spelman College summa cum laude with a bachelor of arts degree in political science. She is a former Miss District of Columbia USA® 2008 and represented the District at the 2008 Miss USA Pageant®. She loves to travel and lives with her two Yorkshire terriers, Trixie and Bailey.
Laura A. Clark
Director of Media and Research
laura@johnsonmedia.com
Laura A. Clark brings a wealth of media planning knowledge and creativity to the Johnson Media Inc. team. She has worked on media plans for major brands, including Bank of America, Taco Bell, eBay, EmerSon, USAA, and Kaiser Permanente.  Previously, she held media planning positions at major agencies such as Draftfcb, Bernstein-Rein Advertising, and Burrell Communications.  Laura received her B.S. in journalism: strategic communications/advertising and has a M.A.M. in entertainment and media management from Columbia College.  She enjoys traveling, especially to Spanish-speaking countries, and learning new cultures.
Andrew Dietz
Senior Consultant
andrew@johnsonmedia.com
Andrew Dietz is Founder and President of Creative Growth Group, a renowned relationship marketing and business development agency. He has served Johnson Media Inc. since 2005 as a senior consultant.  He provides business development and strategic marketing counsel. Andrew edits the monthly online publication Growing Professional Services and co-hosts the online radio program by the same name. He  is also the author of the nationally acclaimed book, The Opening Playbook: A Professional's Guide to Building Relationships that Grow Revenue. Andrew Dietz has served on the Board of Directors for the Museum of Contemporary Art of Georgia and VOX Teen Communications. Born in Brooklyn and raised in Connecticut, Andrew lives in Atlanta.
Amy Chmielewski
Account Supervisor
amy@johnsonmedia.com
Amy Chmielewski brings a wealth of experience to Johnson Media Inc. having worked for a major advertising agency and Fortune 100 client. She previously worked at BBDO where she played a supporting role in account services. Before that, she worked at Athens Food Tours and Flagpole Magazine where she was able to connect with small businesses in Athens, Georgia and help with their advertising efforts. Amy grew up outside of Milwaukee, Wisconsin and made the move south to study at the University of Georgia.  She graduated with honors from Grady College of Journalism and Mass Communications with a B.A. in advertising. In her free time, she enjoys camping outdoors, cooking, and spending time with her dog, Ox.
Victoria H. Glebocki
Account Executive
victoria@johnsonmedia.com
Victoria H. Glebocki joins the Johnson Media Inc. team with a diversity of experience. Recently, she worked under the director of marketing and communications for Emory University's Office of Admission where she spent three years designing publications and exploring strategies and tactics of competitors in higher education. Before this role, she managed her own jewelry business and worked as a marketing director and operations manager for a floral company in Los Angeles. In her spare time, Victoria works with underserved high school students to support them through the college and scholarship application process. Originally from Pasadena, California, Victoria is a global travel enthusiast. She loves exploring Atlanta, developing her photography skills, and spending quality time with family and friends.